Heat Press for specialty semiconductor process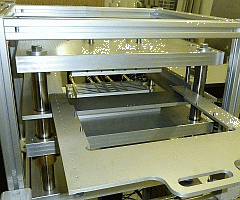 Part of custom semiconductor manufacturing the press has heated platens parallel within 0.05mm and it is fitted with controls for pressure, temperature and optional automated cycle. The automation is done by a Galil controller for motion and the whole process is controlled from Labview.
---
Assembly Jig for manufacturing a heat removal system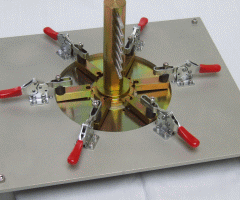 The client needed to hold fifteen components very precisely in relation with each other while performing a bonding operation. The jig designed and manufactured allowed one operator to precisely index and hold more than fifteen components, adjust each one as needed and allow a unobstructed path for dispensing the bonding agent.
---
Servo Driven Translation Stage for automating cedar shingles R&R machines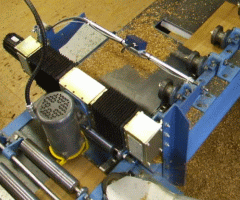 Cedar shingles of random widths need to have the edges trimmed. Shingles are measured by a non-contact vision sensor, optimal cutting position is calculated for each shingle and the corresponding motion command is sent to a motion controller. A servomotor coupled to a linear bearing stage position a milling head to the desired location and an electromagnetic brake locks the stage in place during cutting.
---